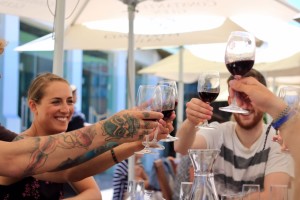 For any person that's had the pleasure to explore Cape Town, one of the first pointers they will lead onto is how much Cape Town has to offer in both a social and an adventurous sense. During our time in Cape Town, the Ticket To Ride group got to very much so experience that first hand. We stayed on the doorstep to one of the best beginner surfing waves, Muizenberg in a hostel called African Soul Surfer. On our doorstep, literally on our doorstep, we had views of these long, effortlessly flowing waves that at times you could swear were just calling your name. Every morning was woken with someone pumped and ready to get out there. From early morning 6 am sessions with empty waves to being the last guys in the water surfing as the sun went down. Dinners consisted of a braai (South African for a BBQ only 100 times better) on the balcony with beers and socializing and food markets that had almost every type of food your mind could imagine.
The best part about Cape Town had to be the surfing and the improvements each person made at this stop. It starts off as a complete beginner lesson and by the end of Muizenberg every single person was up and riding and most of the group were at the back taking complete advantage of these long, endless rides that carried you for what at times feels like a lifetime. There is even someone who had never surfed before in his life and he is now one of the top surfers in our group of 25 people. The surfing side of Cape Town personally for me as a coach was so rewarding. We surfed two other spots during our time in Cape Town. We surfed a spot called Long Beach which is a wave for the more confident surfers but our guys went out there and gave it their all as well as learned a lot more about their surfing standards and abilities. We spent a day driving to the Atlantic side of the Cape called Blouberg which boosts hard paddle outs and daringly cold waters. This wave is very tricky and your fitness needs to be up to scratch as the paddle out is in no way easy and the wave is a powerful push of water. Once again the guys showed up and rocked it. There were guys out back pulling into these daring waves with no fear and there were some guys on the inside who struggled a bit more but they gave it their all. This wave was again a massive learning curve for the guys and like every different wave we surf on this trip, it has something to teach you.
When we weren't surfing we had the pleasure of exploring all that Cape Town has to offer. We went to one of the most cultured markets in Cape Town called The Hout Bay market where the guys had the chance to eat some really good food and see some of the local talent that was on display for purchase. We drove over Chapmans Peak which holds one of the most beautiful views Cape Town has to offer, second best to the view from the top of Table Mountain. We even braved climbing Table Mountain which is a total must for any tourist that comes to Cape Town. Climbing Table Mountain is no easy game especially with the heat but once you're on the top all that blood, sweat, and tears it took climbing just disappears and you then realize the true beauty of Cape Town. From the top of this beautiful mountain, you have a 360-degree view of Cape Town and it is honestly breath taking. No amount of pictures or trying to describe it will do that view any justice, it is something that needs to be seen first-hand in order to be appreciated.
We attended an event called Party in the Park which is a completely non-profit organization that gets together some of Cape Town's most talented artists and puts them on display for you to watch. The best part about this is, it's completely free and you don't have to pay a cent. We spent our afternoon hiding under the trees away from the burning African sun whilst a band called Al Baire was on stage rocking out some old school bangers that almost every person there knew and was singing and dancing along too.
About a 45-minute drive from where we stay in Muizenberg is a beautiful little isolated beach called Boulders Beach. The water is so clear and blue you can see straight to the bottom but to be completely honest, the group was more interested in the fact that this beach is home to hundreds of penguins. The only locals waddling around that beach is loads of Cape Penguins which at times sit about a meter away from you. To be able to see wildlife so close to you and in their own environment is such an incredible experience. At one point some of the penguins even decided they wanted to get involved in the group and headed over to one of the guys and just sat there completely content and stoked to be involved. If they could have spoken I'm almost certain they would have got involved with some of the banter that was going on.
Our nights in Cape Town were met with lots of socializing and evening pool competitions at our hostel that involved endless games and copious amounts of laughter. Cape Town is well known for its karaoke nights and especially at a pub only about a five-minute drive away from our hostel called Brass Bell. It was a Wednesday night well spent and we even came to discover that a few of the guys on our trip can really sing as well as a few that really can't sing. I don't think there was a person in there that wasn't singing along to every song that came on and the most spoken sentence that night was "Oh my gosh guys, I love this song". We spent the last Saturday night of our time in Cape Town exploring Long Street, it's this rather long street in Cape Town that is filled with pubs and clubs and is any night goers paradise. We spend the most of our night at Beer House which is an absolute favorite amount both tourists and locals. With a minimum of 99 bottled beers from 13 different countries and 26 taps poised to fill everything from pints and 100-mL tasters to frothy 1-L mugs. We ended our night at a club called The Arcade where everybody had their dancing shoes on and the moves were flowing.
One of the best parts of the trip was the afternoon we spent away from surfing and giving back to the community. As everyone on the trip has now experienced the "stoke" and independence surfing gives you, we decided to take the guys to meet some of the children from the Waves For Change project. Waves For Change is another non-profit organization, they use surfing as a therapy for children who have been through and are going through traumatic life events. They take these children and introduce them to surfing, by doing this they hope the children will find their own independence and steer away from joining gangs and will mentally and physically help them overcome tragedies in their lives. We spent the afternoon with these children, we painted their container that holds all their boards, wetsuits and equipment and after that, we got in the water with them. Some of the group were so stoked they ran straight into the water with these kids fully dressed. One thing equally as important to surfing for a surfer is sharing the stoke and giving back what you have learned to those around you. As a surfer, it's one of the reasons I became a coach and for the guys on this course, it's one of the reasons they will soon come to realize themselves.
As a whole Cape Town was both an experience and a lesson for every single person on this trip. I don't think anyone left this part of the trip the same person they were when they arrived. Bonds have been made and memories have been shared and to think this is only the start is the best part about it.
Cheers Cape Town, you were good.