Banff
Located in the heart of Banff National Park in the shadow of the Rockies, Canada's largest ski area is the place to immerse yourself in spectacular scenery, awesome powder, epic nights out and one of the world's greatest snowboard experiences.
Banff doesn't feel like the typical resort town, and it's most definitely not! Home to three ski areas; Ticket to Ride runs their courses at Lake Louise. Chosen for its vast and varied terrain with endless chutes, tree runs, gullies and bowls, Lake Louise is truly legendary. Throughout your stay with Ticket To Ride you'll receive first class instruction, including invaluable one-on-one private lessons and the option to shadow qualified instructors. It's impossible not to fall in love with the town of Banff as it mixes North America's best restaurants and bars with the enchanting beauty of a National Park. You'll never stay anywhere as simultaneously vibrant and beautiful. Experience local hockey games, climb an ice wall, relax in one of Banff's natural hot springs or just sit and stare at the stars above one of the many breathtaking frozen vistas of the Rockies.
MOUNTAINS
Lake Louise is a unique snowboarding experience. Four mountains make up the ski area and you'll find everything you need for a lifetime of riding! With 4,200 skiable acres, it's one of the largest ski resorts in North America and was voted "Canada's Best Ski Resort" in the 2014 World Ski Awards. With terrain perfect for instructor training and awesome to explore on a day off, the unique layout means you'll constantly come across new back bowls, trees and gullies. There are runs to suit all levels, the piste never seems busy,and there's an awesome park with features from beginner rails all the way down to the XL jumps overlooking the Lake Louise lodge.
The Lake Louise Snowsports School employs the most snowboard instructors in the area and is the largest snow school in all of Alberta, so the chances of securing a future job are sky high. Ticket To Ride work uniquely and directly with the school, so anyone who passes the Ticket to Ride course has a great chance of being hired as an instructor for the following season. Currently Ticket To Ride graduates make up around 15 per cent of the Lake Louise Snowboard staff.
Accommodation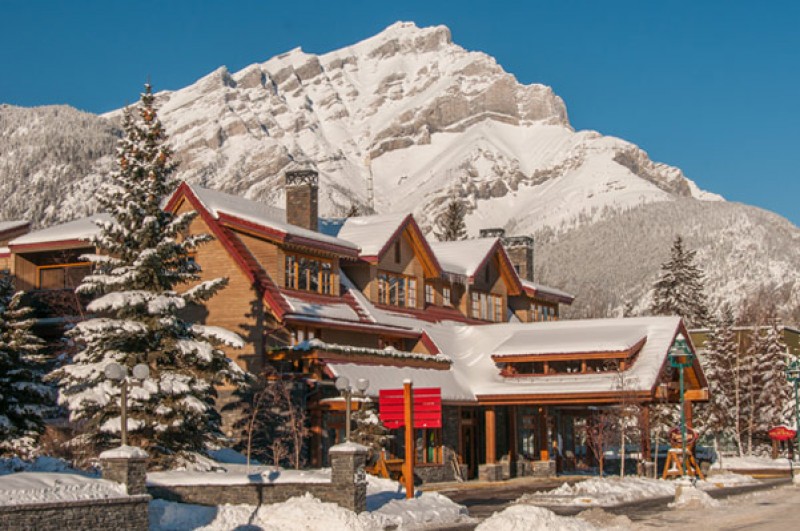 It doesn't get much better than this! For the duration of your stay you'll reside in the Banff Ptarmigan Inn, a 3 star hotel smack bang in the centre of town. The hotel boasts high-speed Wi-Fi, hot tubs, a sauna, a steam room and double beds. While your room comes complete with a microwave, fridge, freezer, coffee machine, flat screen tv, and last but by no means least, an en-suite bathroom with a shower and bath. The rooms are professionally cleaned and the beds changed twice a week for a luxurious home from home experience.
How about a hotel buffet breakfast each morning? At the Meatball, Ptarmigan's in-hotel restaurant, you'll be able to choose from a hot selection each day. While dinner from Sunday through to Thursday will see you checking out the nearby restaurants, with your allotted $100 worth of meal vouchers a week.
Nightlife
Nightlife in Banff is split between relaxed pubs, energetic sports bars and killer clubs. Catch Premiership Football at the Pump and Tap, play pool at The Gap or sample the selection of fine beers and ales in The Banff Brewing Co. For a big night out, the recipe for success begins with a visit to Ticket To Ride favourite, Mel's Bar. Followed by cutting some serious shapes out on the dancefloor of Banff's many nightclubs and ending deliriously happy at Aurora, where the DJ's play the classics as well as the newest electronic tunes. Of course, if you don't feel like leaving your hotel, the in-house bar has you covered with a cozy fire and variety of local and imported beers and ales.