Meribel
The 3 Valley's are iconic. With a vast expanse of on and off-piste terrain, snow sure reliability, and some of the best aprés on the planet, it's easy to see why it's one of the most highly regarded resorts in the world.
Nestled in the heart of the Three Valleys in the French Alps, Meribel is one of the oldest and best resorts in Europe. With a vibrant atmosphere and deeply embedded ski and snowboarding culture, this beautiful settlement has something to offer everyone. If you're in search of waist-deep powder, killer snowparks, amazing après and nightlife, or quite simply some of the coolest shops in the industry, you'll find them all waiting for you here.
Playing host to some of the largest global events on both Olympic and Freestyle levels, Meribel certainly lives up to its reputation as one of the best snowboard resorts in the world. Connected to Courchevel and Val Thorens, the infamous Three Valleys is the largest connected ski area in the world. Rest assured you can shred this playground endlessly and never get bored.
If you're in town with Ticket to Ride, you're guaranteed lots of fun no matter your budget. Working closely with all bars, clubs, shops, events and instructors, Ticket to Ride is able to get you the best this mountain town has to offer. This is a sweet place to call home, and through Ticket to Ride you will thrive amongst its friendly seasonaire community and bustling winter scene.
Accommodation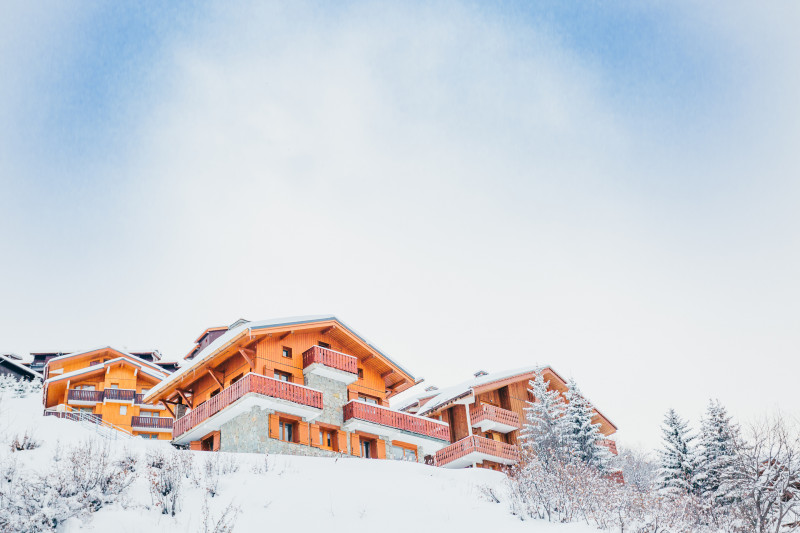 Ticket to Ride accommodation is based in Meribel Centre and in Meribel Mottaret, with all locations offering unrivaled access to the 3 Valleys. All accommodation is a short walk from the piste and the town centres of Meribel Centre or Meribel Mottaret.
New TTR Mountain Lodge
We are excited to launch the new Ticket to Ride Mountain Lodge in Meribel Centre for the 2019/20 Season. Located in Meribel Moussilon, the TTR Mountain Lodge offers chalet-style catering and comforts, with the warm social ambiance and short term bookings of a hostel. With a capacity of up to 20 people spread between Twin, Double and Triple En Suite rooms, this Chalet is perfect for solo travelers or large groups. Offering an excellent 2-course menu served on its large tables, guests from all walks of life can share stories of their great day on the mountain. The Chalet has a large south-facing terrace with a hot tub overlooking the mountains, as well as a Sauna in the lower levels of the building. If you're not socializing in the open plan Dining and Living Room area, kick back and relax in the media room which is kitted out with a large wrap around sofa, Widescreen TV, Apple TV, and Sound System.
Chalet Leopold
Chalet Leopold is our Self Catered Chalet in Meribel Mottaret. This cozy, traditional Alpine Chalet is very close to the slopes and Mottaret town. With a pedestrian lift, a stone's throw away from the premises, it's situated in a great location. Accommodating up to 9 people, this building is perfect for a group of friends or two families. With a large terrace, and the comforts of an Apple TV and WiFi rest assured you'll feel at home here.
Chalet L'Arclusaz
Chalet L'Arclusaz is our beautiful flagship chalet based in Meribel Mottaret, offering incredible views down the valley either from its spacious living area or large terrace. The 5 bedrooms offer a flexible set up, where each bed can be set as twins or doubles depending on your needs. 3 Bedrooms are En Suite, and the 2 Bedrooms on the top floor have a shared bathroom. Rest assured your Chalet Chef and Host will ensure an exciting menu catered to your needs, and the French wine's flowing. With the warm comforts of a sauna and hot tub, you'll relax in true comfort here after a big day on the hill.
The Food
All our catered accommodation has a menu providing the correct nutrition for skiing with tasty ingredients. There will be a breakfast option of cooked eggs or porridge each morning, as well as a selection of cereals, fruit, and pastries if preferred.
After a great day on the hill, there will be a delicious dinner is served in the evening. The Lodge offers a 2-course dinner (main and dessert). L'Arclusaz caters an afternoon tea, followed by a 4-course supper (canapés, starters, main and dessert) with wine or beer. Leopold is a self-catered option for those looking for the Chalet experience with the flexibility of eating out or cooking your own dinners.
We are happy to cater for all dietary requirements, we only ask for this information to be highlighted during the booking stage. Your chalet hosts have one day off in a week, which gives you an opportunity to enjoy the local restaurants in Meribel. Don't worry they'll still be on hand to advise on the best places to wine and dine!