Mozambique
As our most exciting Ticket to Ride destination, Mozambique is where any self-respecting travelling surf adventurer would want to be.
The combination of Mozambique's stunning natural beauty, empty white sandy beaches and perfectly clear tropical waters, make it a must visit destination for the adventurous surf traveller.
A Ticket to Ride Surf Adventure in Mozambique is perfect for those that already have some previous surfing experience. Rather than focus on the early stages of surf coaching and development, a Mozambique surf adventure is more about the search for that elusive perfect wave.
Ticket to Ride have all the necessary equipment, along with a team of experienced Mozambique specialists to ensure this goes down as an epic 4x4 African surf adventure.
WAVES
Like so much of Southern Africa, Mozambique is home to right hand point breaks. Far from the maddening crowd, you'll also find a decent scattering of punchy breaks. While the crystal clear Indian Ocean water with a temperature of 28 degrees, means breaking into board shorts that much more pleasurable.
Pomene is a bay protected by protruding point from the open ocean. This bank produces some really fun waves, think right hand sand bottomed point running for ages with no one in sight!
Trip Stops & Accommodation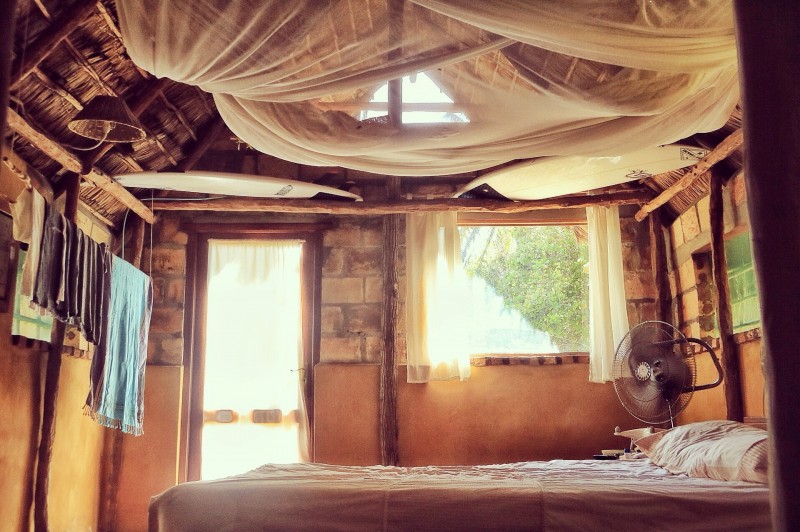 Pomene
Located North of Tofo, Pomene is way off the beaten track and only a real hidden gem. A quiet and tranquil village with a well-deserved reputation for its natural charms, with its abundant marine life and long sandy beaches.
Where we stay In shared rooms exclusive to the Ticket to Ride group and ideally located right between the estuary and the beach. There is a swimming pool looking onto the estuary where you will probably see the best sunset of your life, an on-site bar and restaurant.
Tofo
One of the best kept surfing secrets in Africa! As well as great surf, Tofo is also home to some of the world's best diving with famous reefs and wrecks just waiting to be explored.
Where we stay Turtle Cove, set just back from the main surfing point, is where you'll call home. The shared rooms are exclusive to Ticket to Ride groups and you'll also be able to take advantage of the swimming pool, yoga centre, on-site restaurant and bar - the perfect place to catch up after a hard day's surfing.
Other Activities
There is so much more to Mozambique than just surfing. Ticket to Ride can arrange a variety of different activities to make your trip even more memorable, including diving with Whale Sharks, game fishing and quad biking.