Banff
Banff doesn't feel like your typical resort town. Home to three ski areas: Mt Norquay, Sunshine Village and Lake Louise. Ticket to Ride has chosen the latter as their Canadian base for its vast and varied terrain with endless chutes, tree runs, gullies and bowls. Lake Louise is truly legendary.
It's impossible not to fall in love with the town of Banff as it mixes North America's best restaurants and bars with the enchanting beauty of a National Park. You'll never stay anywhere as simultaneously vibrant and beautiful. Experience local hockey games, climb an ice wall, relax in one of Banff's natural hot springs or just sit and stare at the stars above one of the many breathtaking frozen vistas of the Rockies.
Accommodation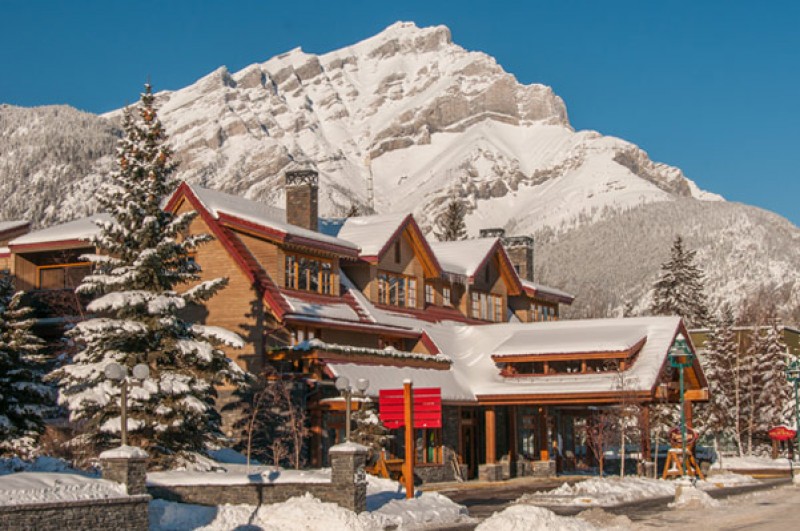 It doesn't get much better than this! For the duration of your stay you'll reside in the Banff Ptarmigan Inn, a newly refurbished hotel right in the centre of town. The hotel boasts high-speed Wi-Fi, hot tubs, a sauna, a steam room and double beds. While your room comes complete with a microwave, fridge, freezer, coffee machine, flat screen tv, and last but by no means least, an en-suite bathroom with a shower and bath. The rooms are professionally cleaned and the beds changed twice a week for a luxurious home from home experience.
How about a hotel buffet breakfast each morning? At the Ptarmigan's in-hotel restaurant, you'll be able to choose from a hot selection each day. While dinner from Monday to Thursday is provided in-house with a great selection of home cooked food from pasta and pizza to burritos and burgers.