Mt Ruapehu
Mighty Mt Ruapehu is home to two extensive resorts on the North Island of New Zealand sharing one active volcano. It boasts the longest season in the southern hemisphere and nothing but good times. The riding and scenery here is incomparable to anything else in the world.
Mt Ruapehu is located right in the middle of the North Island of New Zealand in the heart of the stunning Tongariro National Park, a World Heritage Site. Such is the beauty that it was chosen for many filming scenes in the Lord of the Rings and Hobbit trilogies including Mordor and the Lonely Mountain. The ski resorts are on the North and Southwest facing slopes of the still active volcano and the area in between the resorts hold limitless backcountry options for those keen to work for their lines. The resorts consistently have the deepest snowpack in New Zealand and the longest season in the southern hemisphere, running from mid-June through to early November. Looking at the stats alone, doing a season here is a no brainer.
New Zealand is often known as the adventure capital of the world and the Ticket to Ride home base of Ohakune is a hub of activities. It rarely snows off the mountain in New Zealand so you can spend your down days riding bikes, exploring caves, hiking waterfalls or relaxing in some of the natural hot springs. Whatever your style, Ohakune has something for you.
Accommodation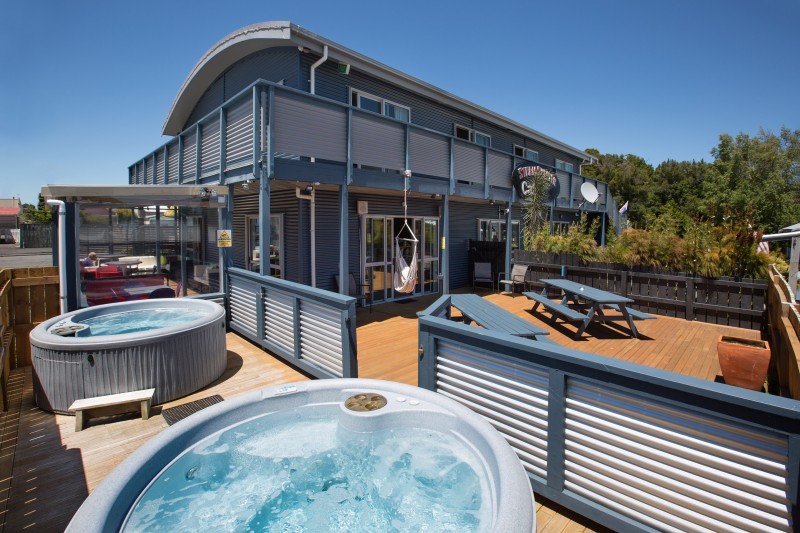 The town of Ohakune is the hub of the North Island snow scene and the Ticket to Ride lodge is located right in the middle of it all. Everyone on one of the Ticket to Ride programmes will be based in the LKNZ lodge, a mere three minute walk away from bars, restaurants, supermarket, snowboard shops, skatepark and an indoor climbing wall.
The lodge itself is fully equipped so you might not even want to leave. Facilities include a hot tub, pool tables, BBQ's, drying room, laundry facilities, several lounges and fully equipped kitchens. Staying here gets you a home cooked dinner five nights a week and breakfast from the restaurant seven days a week - there's no going hungry here.
All the rooms are set up as twin share with two beds, lots of storage space, adjacent washrooms, and even come equipped with central heating, which is quite the luxury in New Zealand!